Jun 29, 2020

9 Reasons Marketing with Coffee Mugs Work

Are you looking for a unique promo item that will knock the socks off your recipients? Do you want something that plants the seed, getting people to know your business, but that keeps on giving? Many promo items do this, but promotional coffee mugs are one that's often overlooked.

Why not give your audience something they'll use often? Talk about return on your investment. According to the National Coffee Association, 64% of Americans drink a cup of coffee every day. The odds are in your favor that they'll use your promotional coffee mugs more than one time a week, giving you more impressions.

If that's not enough, check out even more reasons marketing with promotional coffee mugs work.
Consumers Love Mugs
There's something comforting about drinking a warm beverage. When it's in a mug branded by your company, what type of feelings do you think your audience gets? 
Yep, warm and fuzzy feelings – you can't beat that! 
Choose an attractive mug design and you'll push your mug to the front of your audience's cabinets, giving your company more 'face time' with each person using them.
The Branding is Bold
You want branding that speaks loudly. Coffee mugs offer that 'loudness' with their bold graphics and variety of sizes. If you want something 'different' try the 14 oz. Ripple Ceramic Mug. It has a smooth exterior with plenty of room for large graphics and a glossy interior in a contrasting color. This mug will stand out in any cabinet.
Leaves Room for Creativity
Marketing materials with a blank canvas give you leeway when creating your marketing plan. What are you trying to achieve with your promo? 
Do you want more brand awareness? 

Do you want to remind customers of your business down the road? 

Would you like to give your audience a gift for considering your business?

Do you need that one thing that will turn the tide in negotiations?

Do you want your audience to spread the word about your business?
Determine your end goal for your marketing efforts and it will lead you to the right way to market your mugs.
Everyone Uses Coffee Mugs
Even non-coffee drinkers use coffee mugs. Whether they drink tea or hot cocoa, there's always a use for them. Better yet, when your recipients have company over, they often serve hot drinks. There's another chance for marketing your business. When you provide coffee mugs, you give your audience a chance to advertise for you. It's marketing dollars that keep on giving. 
Coffee Mugs Last a Long Time
Coffee mugs don't wear out. The same coffee mug you gave out 10 years ago may still sit in your recipient's cabinet. Why not give something long-lasting? Mugs won't be thrown away or stored where no one can find them. Because they're so useful, they'll likely find a nice spot up front in your audience's cabinets. 
Even if they don't use them today, they may use them 1 year, 2 years, or 10 years down the road, giving you future returns on your advertising dollars.
Coffee Mugs are Valuable
Your marketing dollars aren't infinite. Invest them where there's value. By value, we mean a return on your investment. How often will your audience use the product? Is it a one-and-done or does it stand the test of time, continually giving you a return on your investment?
Coffee mugs offer that valuable return on your investment. They are affordable, yet pack quite a punch in their use. Remember, it's not just coffee lovers that will enjoy the mug. Anyone that drinks or eats anything hot will enjoy the mug at some point, adding more value to your giveaway.
It's Easy to Stand Out
Don't think you only have standard 11-ounce coffee mugs for your promotional item. Think outside the box and give your customers a mug whose shape will stand out in the cabinet calling attention to it. Here are a few of our favorites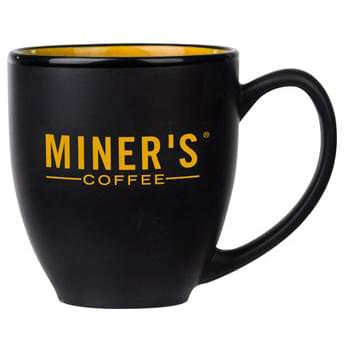 The 14-ounce Tailgate Mug

– It stands a little taller, and its unique shape calls attention to users. We like its sophisticate appearance and the few more ounces of coffee you can hold it – that makes all the difference.

The 13-ounce Stainless Steel Dipped Mug

– This mug is perfect for travel or at home. Its no-spill lid makes it easy to move around with coffee in hand and its stainless steel bottom makes it sturdy enough to take in the car. The contrasting materials make it stand out even before you add your branding.

14-ounce Cork Base Ceramic Mug

– Give your recipients something they won't find anywhere else. The cork bottom on this mug protects surfaces from heat and scratches, and its spill-proof lid prevents messes. The contrasting materials get your attention, while the mug provides many useful purposes. 
Travel Coffee Mugs Work Too
Think about your target audience. What's their lifestyle? Are they home a lot or do they travel? Are they always on-the-go or are they laid back? This plays a role in the mug you choose. People that stay home prefer standard coffee mugs, of all shapes and sizes. But, people always on the go, love to take their hot drinks with them.
Travel mugs are a great option for these audience members. The sky is the limit when choosing travel mugs. From 16 ounces to 24 ounces, there's a travel coffee mug that's perfect for your audience. Choose sizes and styles that stand out, and don't forget the colors.
Your travel mugs will get more exposure, so pay close attention to your branding here. What will catch the eye not just of your recipients, but also the people that see the mug while it's traveling around? That's where your bonuses come from – you get more exposure than just your recipient and all for the same marketing dollars spent. 
Coffee Mugs Have Other Uses
Drinking coffee may be the primary use of the mug, but there are many other uses:
Hold pens and small office supplies – Non-coffee drinkers may use your mug as a pen holder on their desk. This is a great reminder of your business not only for the user but also for anyone that passes by his or her desk.

Makes a cute planter – Coffee mugs are great for planters. Succulents work the best since they need very little watering, but any plant that doesn't need a lot of watering works. Promotional coffee mugs make a unique planter, which draws more people's attention to it.

Makes great gift packs – Do you want to create themed gift packs for your recipients? Use the coffee mug as the 'bag' or holder. A few fun food themes include s'mores, tea, soup, or candy. If you want something more professional, create a mug with pens, sticky notes, and paperclips, or a mug filled with K-cups, coffee packets, and tea bags.
Things to Consider when Buying Coffee Mugs for Promos
Think of your audience when you buy coffee mugs for your promo. What's your goal? Are you looking to stand out, just reward your loyal clients, or something else? Your goal determines the type of coffee mug, color, and style.
Choose mugs that will:
Stick with your branding message. Everything should tie into one another, giving your audience one cohesive message. 

Give mugs that last. Promotional coffee mugs should give you several years of returns on your marketing dollars when done right.

Choose the colors, sizes, and styles that fit your business. What's your business's image, message, or mission? Your mug should fit into that somehow. For example, if you're a straightforward, no frills type business, you don't want a crazy mug that doesn't tie into your message. 
Most importantly, have fun with this promo. This is your chance to stand out and give your recipients a valuable gift. They'll treasure the mug and likely use it often when you choose the style and type your audience loves. Check out our large selection of coffee mugs from standard to fun and everything in between, you will find the mug that suits your needs. Check out our selection, ask us any questions, and let us help you start your next marketing campaign today!