Jun 15, 2020

How to Use Custom Koozies for your Marketing

Summer is here! What better time than now to embrace the summer marketing products? What's one thing everyone loves, whether kids or adults? Custom koozies, of course! They market your brand for you and give your guests something to keep their beverage cold this summer, whether a can of soda, water bottle, or a beer.

Koozies come in many shapes, colors, and styles. There are many colors, background designs, and even shapes for you to choose from. Whether you want to match your company's colors (hello branding) or you want something that really stands out and catches everybody's eye on the beach, there are custom can and bottle holders waiting for you and your audience.
Reasons Custom Koozies are Great
Are you wondering if a custom can or bottle holder is the right promotional product for your company? You may think you're not a beverage company, so how does it make sense? But custom can and bottle holders are perfect for any business – here's why:
Everyone can use them – Kids and adults love fun koozies. They keep their drink from getting warm in the scorching summer sun and they are fun, especially if you get creative with your designs or choices.
Universal sizes – Whether you choose a can or a bottle holder, most standard cans and bottles fit in them, which means you give your audience a functional giveaway that you know they will use all summer long.
Budget friendly – Who doesn't love a promotional item that's budget friendly, right? We're all on a budget these days, but that doesn't mean you should let your marketing go! Grab your stash of koozies and market your business in a wallet-friendly way.
Durable – Koozies, whether neoprene or foam, last for many years. What better way to spend your marketing dollars than to give a product that lasts for a long time? Even if they get stored away in a cabinet for the winter months, you know they'll get pulled out again each summer, bringing your brand to mind each time.
Marketing with Can and Bottle Opener
Marketing with can and bottle openers is easy. Because they are so lightweight, anyone can store them and/or carry them around. Their low cost makes them easy to have on hand at all times, making them a great spontaneous giveaway as well as for planned events.
Each of our koozies is customizable. You can choose the following:
The location of your graphic (which side of the holder)

The number of colors in the graphic 1 – 4

Full color or basic graphic
Think of the can and bottle openers as your business card, but one that gives you a lot more mileage. Business cards get stuffed in a purse or wallet only to be found once in a while. Everyone uses koozies often and they even share them. How often have you been at a barbecue or other outdoor event and someone hands you a can cooler to use? There's marketing right there, and you didn't have to do a thing after giving away the beautiful koozie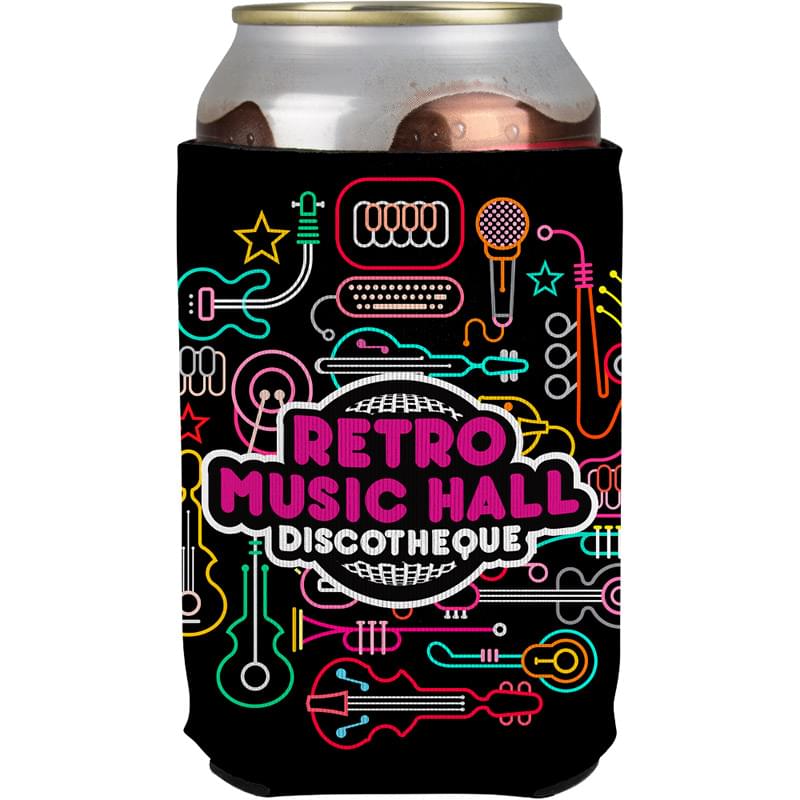 Places to Give out Custom Koozies
The sky is the limit when giving out custom can and bottle holders, but summer is the best time to do it! With koozies for cans, beer bottles, and even water bottles, you have many options to appeal to your target market. With today's outings and get-togethers taking place mostly outdoors, it's a great giveaway for your employees and target audience.
Once your audience has your koozies, you know they will take them everywhere they go this summer. Just imagine your company branding going to barbecues, concerts, fairs, camping, and the beach. The marketing options are endless.
A few of our favorite places to give out koozies include:
Company picnics – Give your employees a little gift at the company picnic. Koozies are something they'll use, which brings awareness to your company. Even if they don't talk about where they work, the koozie does the talking for them. You know the holders will travel to other picnics, the beach, golf outings, and other outdoor events. It's as if your employees are marketing for you when you give out the useful holders.
Sporting events – Do you want to get your name out there? Sponsor a sporting event, even little league or the local high school team, and give out koozies. You give your audience something they need/want and market your business at the same time. We know there's a lot of drinking going on at these events, including soda and water, help your audience keep them cold.
Golf tournaments – Golfers need to stay hydrated and cool. Help them out with a custom koozie. You'll give the golfers something they need and advertise your business at the same time. If the golfers keep the koozie in their bag, they'll use it each time they golf, giving your company more exposure.
Fairs – Large get-togethers where people are outdoors and drinking, even soda or water, koozies are welcome. If you have a booth at the fair, give out your branded holders and market your business in the simplest way possible.
Direct mail – Want to surprise your target audience with a little gift? Foam and neoprene koozies fold flat and are lightweight, so they are easy to mail without costing you an arm and a leg. Market your company at little cost and give your audience something they'll use.
Our Favorite Koozies
We have many options for custom koozies! Here are the different sizes and options:
Can holder – The standard can holder koozie holds up to a 16 ounce can or 20 ounce bottle. This is your traditional koozie that everyone knows and loves. It's low cost, versatile, and fully customizable. We love the

full color koozies

because they are fun, full of vibrant color, and catches the eye.
KOOZIE brand – Do you want to give out the actual

KOOZIE brand product

? We have the original KOOZIE, zip up bottle KOOZIE, collapsible KOOZIES, and even cup KOOZIES. You'll love the different materials including foam, neoprene, and even magnetic options.
Shaped koozies – Are you going to a sporting event? Maybe a golf tournament or a football game? Get into the spirit by giving away

shaped can holders

. Brand them with your company name and logo and you've just appealed to the sports fans out there. Our personal favorite is the

baseball can holder

– it's America's sport, use it in your marketing efforts
Bottle holders – Want to stand out from the crowd? Don't give out the standard can holder; but instead, give out a

bottle holder

. We have a variety of options including zip up beer bottle holders, plastic water bottle holders, and even

custom reusable water bottle holders

. Think of people that workout, such as running, they can use a bottle holder for their water bottle and we even have one that holds their phone.
Neoprene koozies – We love the

neoprene bottle and can openers

for their versatility. Unlike foam, neoprene can get wet and it will dry quickly. Think of pool parties and beach gatherings – there's a lot of water splashing around. The neoprene holders are made from the same material as wetsuits, so they keep drinks dry and the material itself dries quickly. It's a novel giveaway for your audience.
Multi-function can and bottle holders – Want to have a little fun with your koozie giveaway? We have a variety of holders that double as something else. Try the

hat trick bottle opener koozie

. It's two gifts in one – a bottle holder and a bottle opener.
Are you ready to leverage the power of the customized can or bottle cooler? We are happy to help you choose the right product and customize your designs. You'll love the versatility of this 'walking business card' and the return on investment it provides. Check out our options and get in touch with us – we're ready and waiting to help you.