Halloween Stock Design Yellow Die Cut Bag • Haunted House (12"x15") - Flexo Ink
Halloween Stock Design Yellow Die Cut Bag • Haunted House (12"x15") - Flexo Ink
Item #
PI-219-13Y1215-1874470677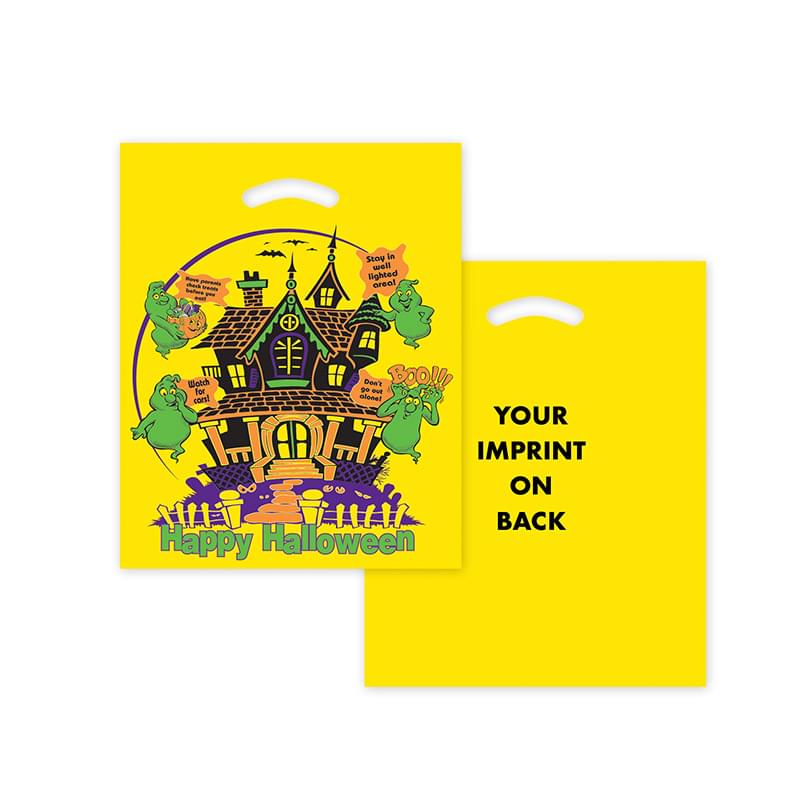 There are no tricks when it comes to collecting treats with this Halloween Yellow Die Cut Bag. Designed with a stock Halloween print stating, "Happy Halloween", this ghoulish bag is made of yellow 2.5 mil low density film plastic. Features include a fold-over, reinforced die cut handle and each bag comes with Halloween safety tips with a multi-color design. Great for community organizations and public safety awareness! No gussets.
Product Dimensions
12" W x 15" H / No Gusset
Setup Charge
$30.00 (G) per design
Imprint Includes
Set up is per design. Black imprint on back side only with stock design.
Additional Notes II
Thickness: 2.5 mil. low density.
Additional Notes III
Handle Style: Fold over reinforced die cut
Additional Notes IV
Stock Imprint Colors: Black C
Product Material
2.5 mil. yellow low density film -Recyclable # 4.
Production Time
5 Working Days